CITY OF ROELAND PARK APPROVES CURBSIDE GLASS PICK-UP PROGRAM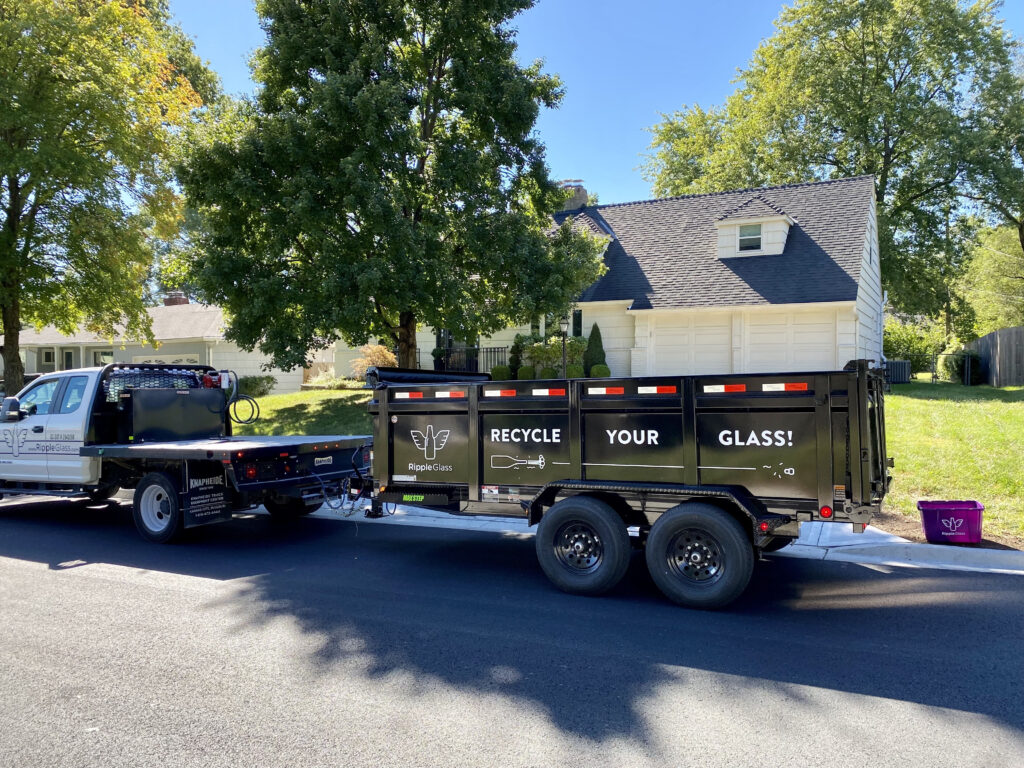 Roeland Park, KS (08/24/2022)– The City of Roeland Park, Kansas has agreed to partner with Ripple Glass to launch a city-wide curbside glass recycling program beginning on January 1st, 2023.
After a successful pilot program earlier this year, the City of Roeland Park, Kansas is the first city in the metro that has partnered with Ripple Glass to provide the service to its residents. With this program, residents will have their glass bottles and jars picked up from their curb. The Ripple Glass bin in the Aldi parking lot, where glass can be brought and dropped off, will also be an option for residents.
To make the program as impactful as possible, The Recycling Partnership has teamed up with Ripple and Roeland Park to help fund the purchase of recycling bins for the nearly 2,900 households that will be served, reducing the cost of service to each household by $0.15 each month.
Additionally, The Recycling Partnership has offered funding to provide educational materials to each participating household, as well as in-kind technical assistance beyond the cash grant. This includes outreach campaign materials as well as technical support and assistance with the design, planning, and implementation of a recycling outreach campaign. They will also assist in providing technical assistance to the community's team as needed to help project the impact of implementing curbside glass collection.
Ripple Glass announced they were launching a curbside glass recycling pick-up program in the Kansas City metropolitan area last September.
Over the past 12 years, Ripple Glass has been dedicated to keeping glass out of the trash, by making glass recycling work. They started with 60 free, public glass drop-off locations in 2009 and have since added new purple bins each year to make 100+ locations across the KC Metro. In 2010, they expanded outside of the KC Metro and have since collected glass from over 100 communities across nine Midwest states. In 2018, they began collecting glass from businesses and multi-family homes through a commercial glass recycling program.
Through various collection methods, they have recycled over 400,000 tons of glass! However, while glass recycling rates in Kansas City have risen from 3% to 20%, it has been hovering over that number for quite some time.
Ripple Glass President, Mike Patterson said "It's time to divert even more glass from the trash and to do that, we need to further expand our glass collection programs. We want to make glass recycling more convenient than ever and that now includes collecting glass from the curb."
Currently, Ripple Glass is partnering with municipalities to offer the curbside glass pick- up program. While the public purple glass recycling drop-off containers will always be an option to recycle glass, Ripple Glass hopes communities will offer the curbside glass pick-up service to their residents to keep even more glass out of area landfills.
Interested municipalities can learn more about the program by visiting the Ripple Glass website at www.rippleglass.com, or by calling the business at 816-221-4527.
Why recycle glass?
Recycling glass saves energy and boosts the regional economy. It is estimated that recycling glass creates about 10 times more jobs than trashing it. Ripple Glass cleans and processes glass received to enable remanufacturing into new products; new beer bottles, and fiberglass insulation.
About Ripple Glass
Ripple Glass, founded in 2009, is the brainchild of the folks at Boulevard Brewing Company in Kansas City, Missouri. Before Ripple Glass, Kansas Citians threw away 150 million pounds of glass – hundreds of millions of beautiful bottles and jars. Boulevard got tired of being part of the problem. With the support of local companies and community organizations, they came up with a solution—Ripple Glass. Since its launch in 2009, Ripple Glass has more than quadrupled the rate of glass recycling in the Kansas City metropolitan area and partnered with more than 100 municipalities throughout the Midwest to collect and process glass. Ready to recycle glass? Find a glass collection bin on their website here: www.rippleglass.com.