Kansas City, MO (July 27th, 2022) – Ripple Glass (https://www.rippleglass.com) is thrilled to announce ten new glass recycling "community art bins" now featured across the Kansas City metro area. To celebrate, Ripple is hosting a 'glass breaking' of their 10th bin placement on World Conservation Day (Thursday, July 28th). Media are invited to a ceremonial glass breaking to christen the bins and celebrate World Conservation Day.
Inspired by the vibrant Kansas City community, Ripple has partnered with talented local artists to create these unique public art bins. Not only do these art bins provide a convenient glass recycling option, but they also highlight the rich culture and treasured landmarks of our beautiful hometown. The project is funded in part by a grant through the Mid-America Regional Council Solid Waste Management District and the Missouri Department of Natural Resources.
"Ripple Glass was founded to solve a local issue for the community – to create an easy way for residents to recycle their glass," said Mike Patterson, President of Ripple Glass. "We are fortunate that Kansas City residents have embraced this recycling program over the past twelve years. As we looked to expand our glass collection drop-off network, we knew we needed to focus on areas where there were gaps in service. Not only will these ten new locations make glass recycling more convenient, they will also add beautiful public art features across the metro."
The talented artists who created the designs on the community art bins are: Batsheba Castro Martinez, Chris Meier and Sam Yates of Yup Yup Design, Frank Norton, Lauren Phillips, and Marcos Román.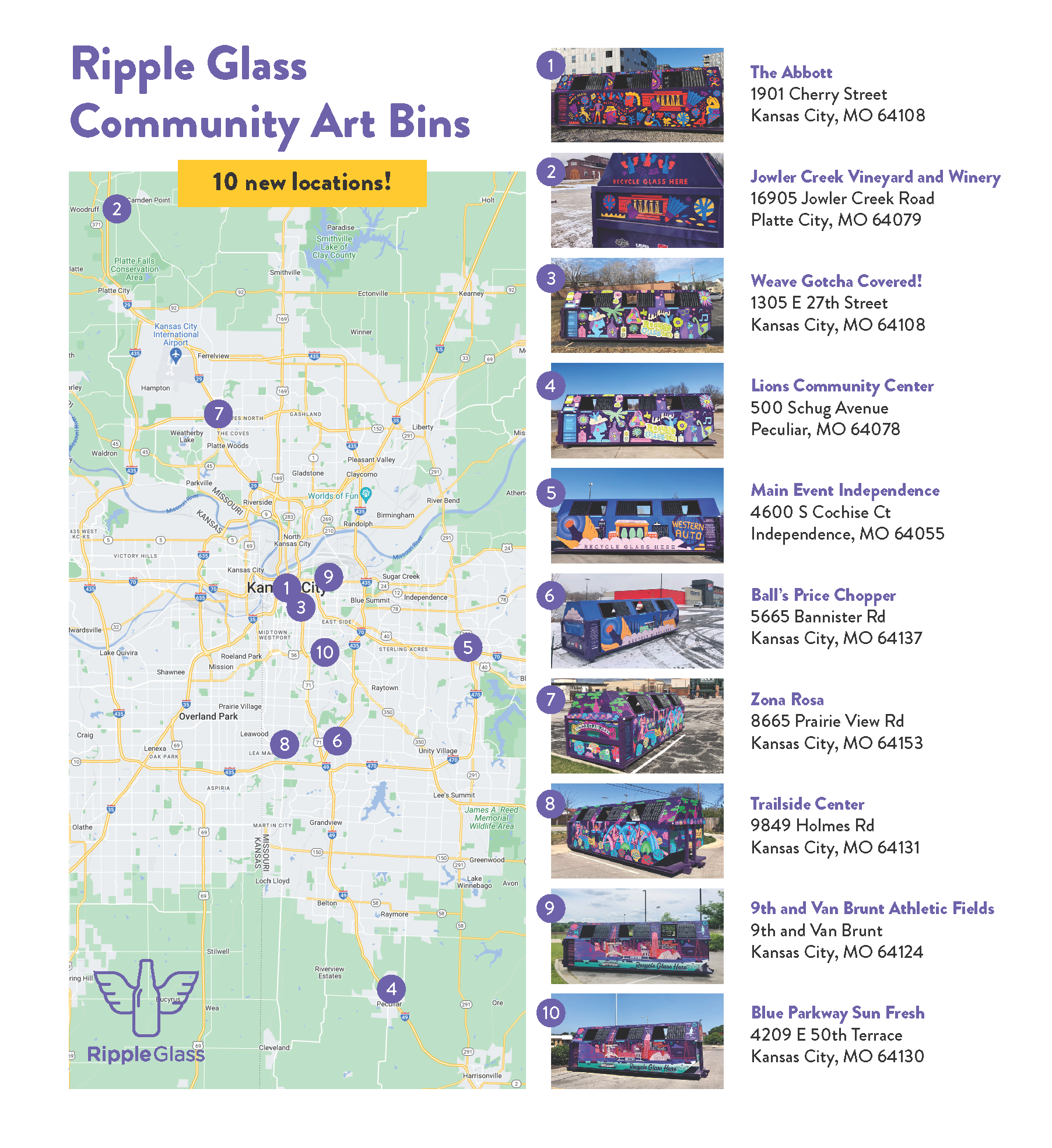 On why he wanted to be a part of this project, Frank Norton said, "Ripple was already doing something super positive for the community, so I was excited to get involved when they proposed a way to tie public art into their initiative. I love projects like this that build a little bit of color and delight into everyday experiences where you might not expect it. Collaborations like this make our city more vibrant and interesting, put a spotlight on meaningful services, and support the art community in a great way. It'd be awesome to see more partnerships like this in Kansas City's future." Frank also designed the very first community art bin in 2018.
The art bins will eventually rotate throughout the Kansas City metro, but they can be found at these locations through the next month:
Artist: Frank Norton
Frank is a Kansas City based graphic artist specializing in off-beat design and illustration. He's built a reputation for creating provocative brands, partnering with boutique hotels, tropical bars, drag queens, distilleries, and pizzerias to help push the culture forward through art and design. His unconventional approach draws inspiration from folk art, pop-culture, and colorful ephemera.
Locations:
The Abbott
1901 Cherry Street, Kansas City, MO 64108
Jowler Creek Vineyard and Winery
16905 Jowler Creek Road, Platte City, MO 64079
Artist: Yup Yup Design
Yup Yup is a designer due from the Midwest, led by Chris Meier and Sam Yates. They define themselves as imaginative storytellers with a knack for problem solving and making the world a better place. Chris and Sam live in Kansas City proudly calling Marlborough Heights home.
Locations:
Weave Gotcha Covered!
1305 E 27th Street, Kansas City, MO 64108
Lions Community Center
500 Schug Avenue, Peculiar, MO 64078
Artist: Batsheba Castro Martinez
Batsheba is a Kansas City based designer and illustrator. They currently work as a Senior Experience Designer at VML&R. In their spare time they create a variety of work for diverse clients. Don't expect the same thing multiple times because their work is a varied as their first-generational, Mexican American, queer experience.
Locations:
Main Event Independence
4600 S Cochise Ct, Independence, MO 64055
Ball's Price Chopper
5665 Bannister Rd, Kansas City, MO 64137
Artist: Lauren Phillips
Lauren is a feminist, queer, multidisciplinary visual artist based in Kansas City. Frequently working in digital illustration and wood cutout acrylic paintings, she often focuses on a woman's point of view. Her work has been exhibited in solo and group exhibitions and shared in publications around the world.
Locations:
Zona Rosa
8665 Prairie View Rd, Kansas City, MO 64153
Trailside Center
9849 Holmes Rd,  Kansas City, MO 64131
Artist: Marcos Román
Marcos is a multidisciplinary Latinx artist based in Kansas City, where he works as a Senior Designer at Hallmark creating the artwork you see on greeting cards and gift wrap. His work explores joy, queerness, imaginary worlds, and his Puerto Rican heritage through digital & traditional illustration, mixed media collage, and surface design.
Locations:
9th and Van Brunt Athletic Fields
9th and Van Brunt, Kansas City, MO 64124
Blue Parkway Sun Fresh
4209 E 50th Terrace, Kansas City, MO 64130
About Ripple Glass:
Ripple Glass, founded in 2009, is the brainchild of Boulevard Brewing Company in Kansas City, Missouri. Before Ripple Glass, Kansas Citians threw away 150 million pounds of glass – hundreds of millions of beautiful bottles and jars. The folks at Boulevard finally got tired of being part of the problem. With the support of local companies and community organizations, they came up with a solution—Ripple Glass. Since its launch in 2009, Ripple Glass has more than quadrupled the rate of glass recycling in the Kansas City metropolitan area, and has collected glass from more than 100 municipalities throughout the Midwest.