FOR IMMEDIATE RELEASE
November 17th, 2022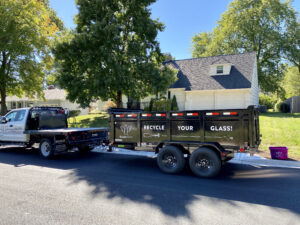 Curbside Glass Collection Coming to Roeland Park
Ripple Glass and The Recycling Partnership offering New Curbside Collection Program for Roeland Park Residents
Roeland Park, KS (11/17/2022) – Residents in Roeland Park, Kansas will soon be able to collect and recycle their glass with a new curbside collection program, beginning January 2023.
In partnership with Ripple Glass and funded in part by The Recycling Partnership, Roeland Park is rolling out a new program that will allow residents to recycle their glass with ease. In early December, Ripple Glass will begin delivering bins to Roeland Park's 2,900 households. Once the program launches in January, residents will be able to place their glass bottles and jars in the purple bins and have them collected curbside monthly.
After a successful pilot program earlier this year, the City of Roeland Park is the first city in the metro that has partnered with Ripple Glass to provide curbside service to its residents. Over the next three years, Ripple and the City estimate between 275 and 400 additional tons of glass will be diverted from the landfill.
Mayor of Roeland Park, Mike Kelly said "As Mayor of Roeland Park, I'm incredibly excited to partner with Ripple Glass to bring curbside recycling to our community. After our pilot period, it was clear this service would not only be a demonstrable benefit for our residents, it would help defer significant tonnage from the landfill, thus helping us meet our environmental goals. Bringing it to the entire city makes the service cost-effective and convenient. We hope that more cities can follow suit in the near future."
The Recycling Partnership's Grant Development Manager, Matt James, said "The Recycling Partnership is thrilled to be working with Ripple Glass and Roeland Park to give residents the opportunity to easily recycle glass at their curb for the first time. Through this program, residents will be able to redirect valuable recyclables out of the landfill, environment, and waterways, and put them back into the circular economy as much needed supply."
Over the past 12 years, Ripple Glass has been dedicated to keeping glass out of the trash, by making glass recycling work. They started with 60 free, public glass drop-off locations in 2009 and have since added new purple bins each year to make 100+ locations across the KC Metro. In 2010, they expanded outside of the KC Metro and have since collected glass from over 100 communities across nine Midwest states. In 2018, they began collecting glass from businesses and multi-family homes through a commercial glass recycling program.
Through various collection methods, they have recycled over 400,000 tons of glass! However, while glass recycling rates in Kansas City have risen from 3% to 20%, it has been hovering over that number for quite some time.
Ripple Glass President, Mike Patterson said "It's time to divert even more glass from the trash and to do that, we need to further expand our glass collection programs. We want to make glass recycling more convenient than ever and that now includes collecting glass from the curb."
Ripple Glass is interested in partnering with more municipalities to offer the curbside glass pick- up program to cities across the metro. While the public purple glass recycling drop-off containers will always be an option to recycle glass, Ripple Glass hopes communities will offer the curbside glass pick-up service to their residents to keep even more glass out of area landfills.
"The need for this service is enormous and the results of our pilot project with The City of Roeland Park helped confirm that. Kansas City locals have been asking for curbside glass recycling service since our founding in 2009," said Piercyn Charbonneau, Commercial Program Manager at Ripple Glass. "It has always seemed like a natural progression of our model and will only further our mission of providing a comprehensive glass collection system to the areas we serve. We are extremely thankful for Roeland Park's willingness to explore the opportunity with us and for The Recycling Partnership's support to do so."
Interested municipalities can learn more about the program by visiting the Ripple Glass website at www.rippleglass.com, or by calling the business at 816-221-4527. Residents can continue to use the Ripple Glass recycling containers at the Aldi parking lot 4801 Roe Lane or the Hyvee on Martway in Mission. If you have questions for the City of Roeland Park about the program, please contact Erin Winn, Assistant City Administrator, at 913-722-2600.
About Ripple Glass
Ripple Glass, founded in 2009, is the brainchild of the folks at Boulevard Brewing Company in Kansas City, Missouri. Before Ripple Glass, Kansas Citians threw away 150 million pounds of glass – hundreds of millions of beautiful bottles and jars. Boulevard got tired of being part of the problem. With the support of local companies and community organizations, they came up with a solution—Ripple Glass. Since its launch in 2009, Ripple Glass has more than quadrupled the rate of glass recycling in the Kansas City metropolitan area and partnered with more than 100 municipalities throughout the Midwest to collect and process glass. Ready to recycle glass? Find a glass collection bin on their website here: www.rippleglass.com.
About The Recycling Partnership
At The Recycling Partnership, we are solving for circularity. We mobilize people, data, and solutions across the value chain to unlock the environmental and economic benefits of recycling and a circular economy. We work on the ground with thousands of communities to transform underperforming recycling programs; we partner with companies to achieve packaging circularity, increase access to recycled materials, and meet sustainability commitments; and we work with the government to develop policy solutions to address the systemic needs of our residential recycling system and advance a circular economy. We foster public-private partnerships and drive positive change at every step of the recycling and circularity process. Since 2014, we have diverted 770 million pounds of new recyclables from landfills, saved 968 million gallons of water, avoided more than 670,000 metric tons of greenhouse gases, and driven significant reductions in targeted contamination rates. Learn more at recyclingpartnership.org.
Media Contacts: Piercyn Charbonneau, Program Manager, Commercial, Ripple Glass | (832) 977-3973 | piercyn@rippleglass.com